Reindeer
At Sussex Trees we now have seven reindeer, with Cupid, Prancer and Dasher all giving birth this year. Rudolph is a proud father, and his antlers continue to get bigger. They all live at Goddenwick with the other animals.
Pygmy Goats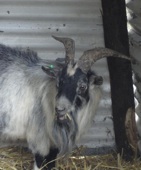 At Goddenwick Farm we have a herd of friendly Pygmy Goats. Percy and Reg (below) are the elders of the group, but we have a lot of babies too, like Boots. The goats enjoy climbing, exploring and eating and are great fun to watch. At Christmastime Boots and his best friend Wellington will be found at Northdown keeping Tom company during the busy period.
Reg the Goat can now be found on twitter! You can follow his musings through the year at @RegTheGoat*
Alpacas
The alpacas arrived at the farm in 2009. Since these two on the left arrived, we have taken on two young orphan males from a local herd. Both have now been weened off their bottles but are still very tame.
Following in Reg's footsteps, Major Phil Paca is now on both twitter and Facebook*!
*Please note that the opinions of Reg the Goat and Phil Paca are their own and do not reflect the opinions of Sussex Trees or its owners. Sussex Trees is not responsible for the content of external websites.